Sunshine Halloween Street Party 2023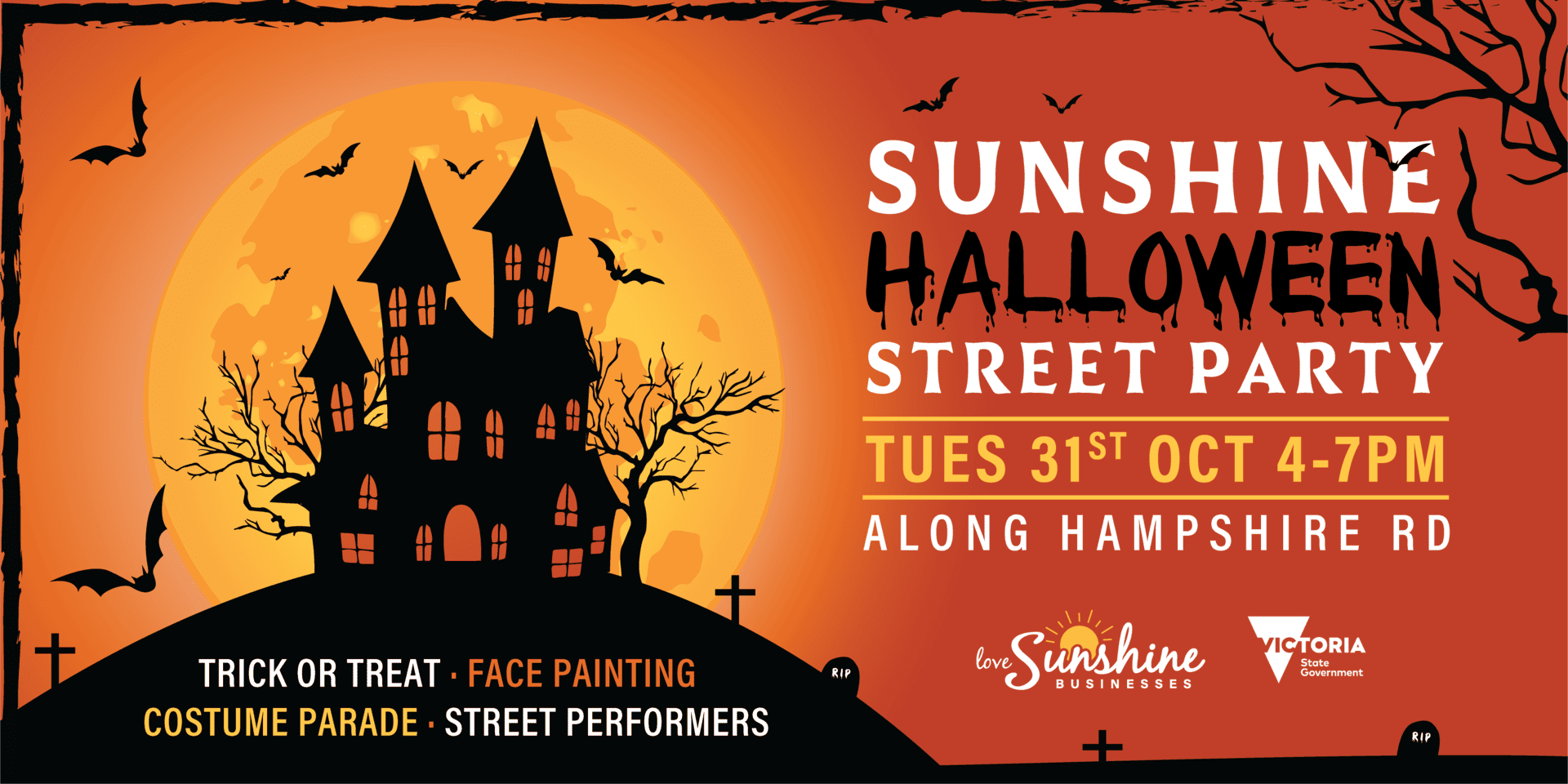 SUNSHINE HALLOWEEN STREET PARTY
TUESDAY 31ST OCTOBER 2023, 4PM TO 7PM ON HAMPSHIRE RD. 
The second ever Sunshine Halloween Street Party is on Tuesday 31st October from 4pm to 7pm. Hampshire Rd will come alive with roaming ghouls, scary characters, trick or treating and decorated orange Halloween Dens for kids to have their face-painted and grab some treats or free mandarins for a healthy option.
A small stage with sound, lights, MC – Cassidy Le Creme, killer kids' music, activities and Best Halloween Kids Costume competition with fab prizes and give aways at 6pm in the Civic Green public area near Library, corner Hampshire Rd and Bennett Place.
We invite all the kids of Sunshine plus mums and dads to get dressed up in their scariest outfits and join in the fun of the Sunshine Halloween Street Party. Bags and bags of lollies and chocolates will be given to kids at the 3 Street Halloween Dens and a hand stamp will be given.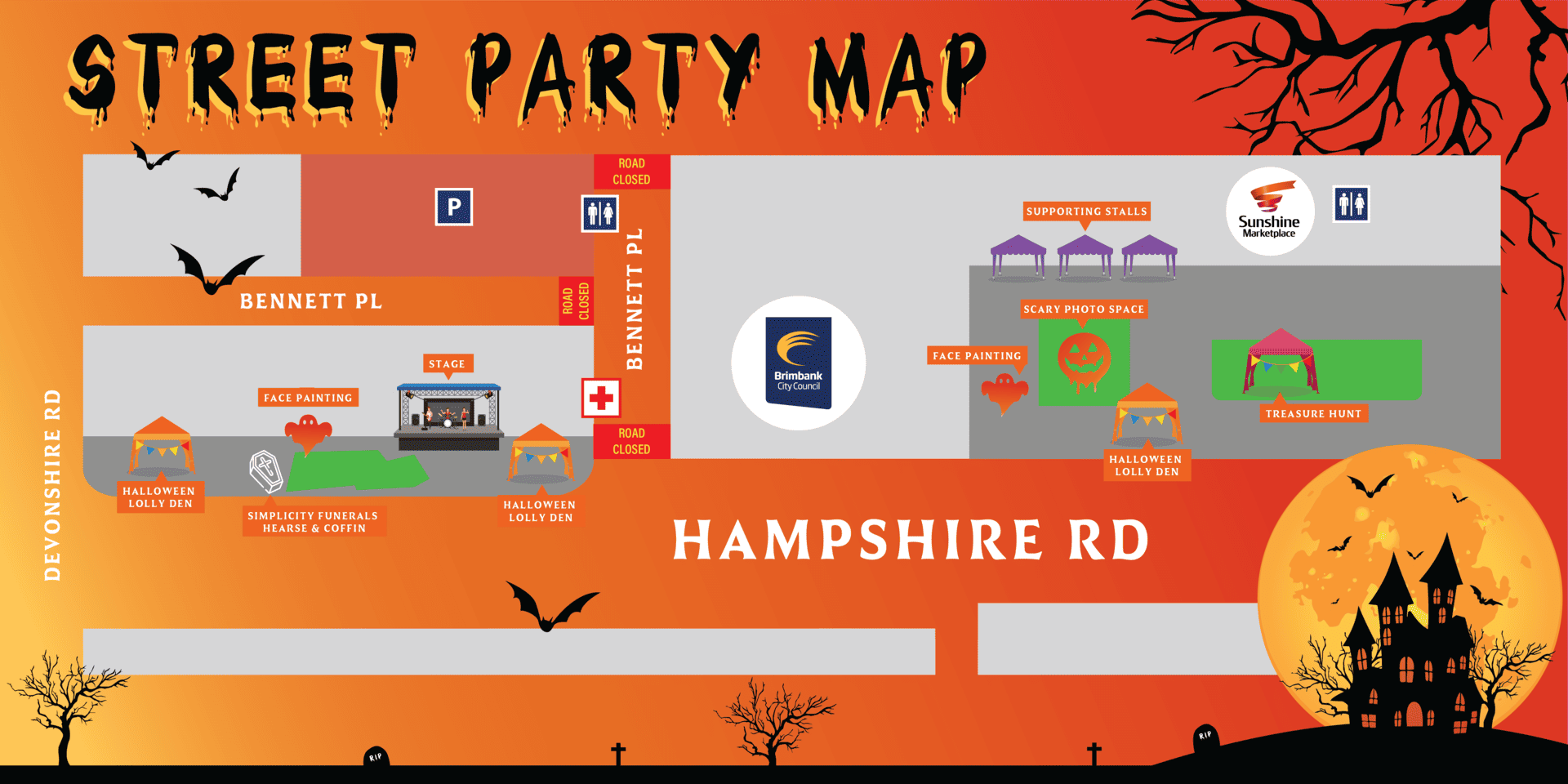 Street Halloween Lolly Dens will be located at:
303 Hampshire Rd – front of Sunshine Marketplace;
253 Hampshire Rd – corner of Devonshire Rd. Outside Thuan An Restaurant;
302 Hampshire Rd – Bennett Place near Sunshine Library;
Face Painting Dens – will be in the Civic Green public area on the grass, and at the front of Sunshine Marketplace.
Scary Photo Space – a spooked up space on the Helipad at the front of Sunshine Marketplace for kids to take selfies with a professional photographer who will share images to parents' devices.
Best Halloween Kids Costume Competition – at 6pm at Stage area in the Civic Green near Library. 3 great prizes are up for grabs – 1st is sponsored by Intencity Sunshine, 2nd is sponsored by Village Cinemas & 3rd is sponsored by Sunshine Marketplace.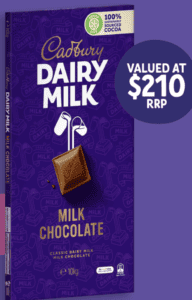 Halloween Treat Hunt – for kids to search the shop windows for 10 CODE word clues for a chance to win some great prizes – A 10kg block of Cadbury Dairy Milk Chocolate or family movie tickets from Village Cinemas.
Please note: Children need to be accompanied by a parent or guardian, check in at the registration area at front of Marketplace. They will be given a clue sheet and pencil then head off to find CODE words at 10 retail store shop windows. At the completion of the hunt children return to the registration area to register to win a prize.
Restaurants will be offering scary inspired Halloween dishes on the night, so make sure you book a table so you don't miss out. At the front of Marketplace their will be 3 supporting stalls – Woolworths will be giving kids free mandarines, fruit and water, Intencity Sunshine will have their Winning Spinning Wheel giving away lots of prizes to kids and Village Cinemas will have vouchers and goodies.
Sunshine Library will be offering Halloween Mask Making and will be screening a spooky family friendly film at 5pm – 7pm.
This event is proudly brought to you by Sunshine Business Association and the Victorian State Government. This is a safe family friendly event plus its FREE….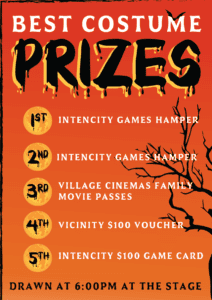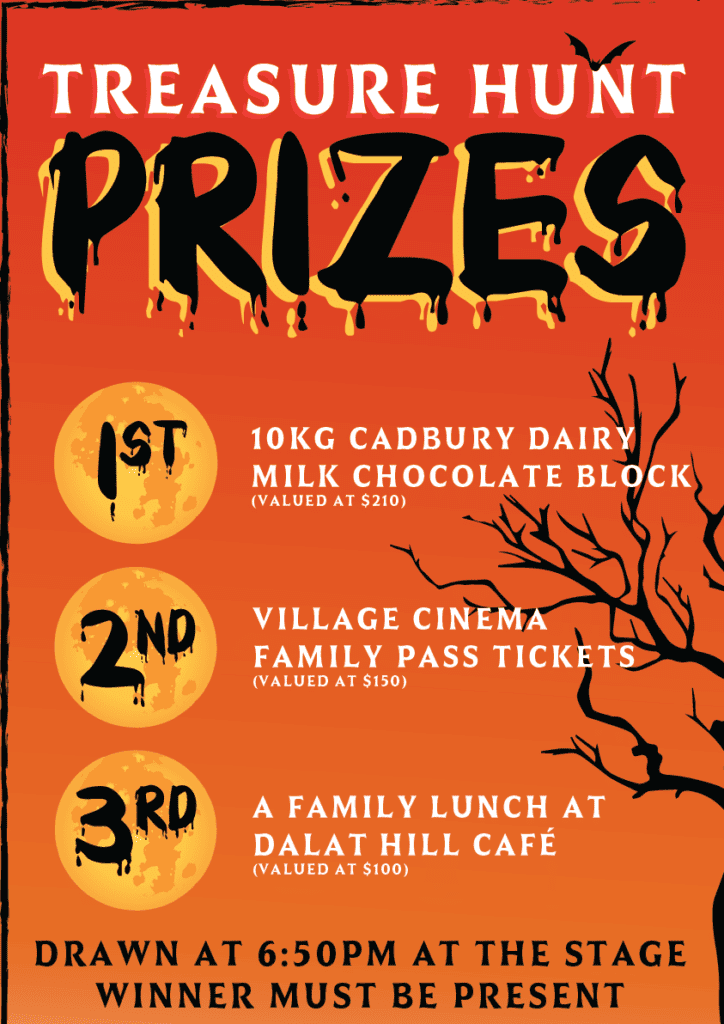 IMAGES FROM 2023 HALLOWEEN STREET PARTY