Shop in Sunshine & Win a Car Competition
Starting Monday 1st February, closes 10am Thursday 25th February 2021.
The Sunshine Business Association (SBA) launched the SHOP IN SUNSHINE & WIN A CAR COMPETITION as part of the SHOP LOCAL campaign to bring more customers to Sunshine, to experience our multicultural shopping precinct and enjoy the uniqueness of our fabulous shops and restaurants. This has now finished and we are happy to announce we have a very lucky winner – Rebekah Deniese of Sunshine spent $25+ at Specsavers in the Sunshine Marketplace. Congratulations Rebekah…….
…………………………………………………………………………………………The competition will start 9am on Monday 1st February 2021 and finish 10am on Thursday 25th February 2021.The winning entry will be drawn on Friday 26th February at 1pm at the Sunshine Plaza Shopping Centre and LIVE on FACEBOOK.
To enter, customers will need to spend $25 or more in participating businesses, fill in an entry form at counter and give to shop manager, SBA will pick up all entry forms weekly and place in a large branded barrel sited at Aussie Home Loans at the Sunshine Plaza.
The winning 1st prize is an MG car – 2020 MG3 – Auto Core sourced from Western MG and will be displayed in The Sunshine Plaza – 324-328 Hampshire Rd Sunshine. The prize includes on road costs and is valued at $17,000.
The SUNSHINE TWILIGHT STREET MARKET event that was planned for  Friday 26th February has been cancelled due to restrictions and safety concerns with Covid-19 . SBA are also giving away $3,000 worth of $100 Gift Vouchers. 10 lucky winners each week will win 10 x $100 Sunshine restaurant Gift Vouchers. Their entry will be returned to barrel for a 2nd chance of winning the MG3 car.
Make sure to follow us on Facebook for the LIVE drawing of the $100 Gift Vouchers weekly and for the drawing of the car at 1pm on Friday the 26th February 2021.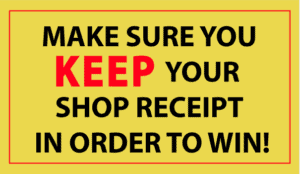 Proudly presented by Sunshine Business Association and in partnership with the Victorian Government as part of our Love Sunshine-Business Recovery Project.
Follow us on Instagram and Facebook for all updates and news on the competition.
Terms & Conditions Apply: