Sustainability in Sunshine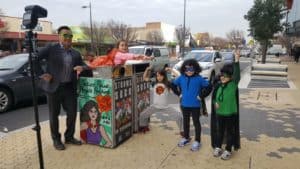 "By 2025 or earlier, all Australian packaging in Australia will be reusable, combustible, or recyclable" said Josh Frydenberg – Federal Environment Minister. 28 April 2018
The Sunshine Businesses Association (SBA) plans to be the first Victorian shopping precinct to go SUSTAINABLE!  Our customers want us to be more environmentally conscious and we want more customers.  We are starting the focus small on single use plastic straws, eventually branching out to single use plastic bags, single use take away containers and single use drink containers.
With 413 shops and offices in the Sunshine business precinct, the SBA run by business volunteers, will embark on a 12 month+ educational program with the aim of changing the way businesses operate and reduce the impact on the environment. Supported by Brimbank City Council and The Friends of Kororiot Creek we will educate our businesses, customers and visitors to ask for environmentally friendly cups, straws, bags and take-away containers.
Our 'STRAWS SUCK' campaign was launched at our 'Sustainable Sunshine' Business Networking Event – on Wednesday 27th June. We will support and steer local traders to phase out single use plastic straws and replace them with paper straws. The SBA will purchase and distribute 80,000 paper straws and glass dispensers to our 80- cafes and restaurants in Sunshine CBD. With Brimbank City Council's support we will undergo educational visits to cafés and restaurants highlighting this initiative and that by advocating for sustainability they will see an increase in customer numbers to our businesses. Participating businesses will display a colourful window decal of a platypus and straws with a message of; "SAY NO TO PLASTIC STRAWS" so our customers know which shops are trying to become sustainable and also to educate our customers to say no to plastic straws! We have chosen to us a platypus instead of the international sea turtle because we once had platypuses in our local Kororoit Creek and want to assist in their return….one day!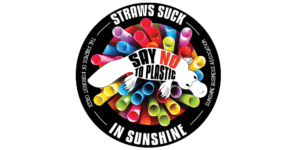 The 'STRAWS SUCK' message is now visible on our street bins. In conjunction with the Friends of Kororoit Creek (FOKC) we have installed new binwraps on the 100 rubbish bins in and around Sunshine CBD. The local children, artists, residents and families  of Sunshine have hand painted 88 individual panels telling their anti-litter, anti-plastic message and how plastic ruins the Kororoit Creek. Jessica Gerger who managed this said "Not only are the bin wraps visually striking but the messages on them are coming from the community to the community. The hope is that a message from perhaps a 6 year old asking people to reduce their plastic footprint or to use the bin for the planet's sake – will make an impression."
SBA President – Carson Luk said; "On average our café's and restaurants are using between 200 to 500 straws a day, or 16,000 to 40,000 straws a day in Sunshine. We believe that through ongoing education around sustainability to traders and subsequently our customers, there is an opportunity to enhance the attractiveness of our Sunshine, become sustainable while also positively affecting business profits.