Sunshine Lunar New Year Festival 2023
Sunshine Lunar New Year Festival 2023
The Sunshine Lunar New Year Festival returned to Hampshire Road, Sunshine on Sunday 12th February 2023 in celebration of the lunar calendar. A Tét Festival that brought our Vietnamese, Asian and culturally diverse community together in a safe and fun environment.
Presented to the community by the Businesses of Sunshine, the now annual Lunar New Year Festival was an action-packed day of family fun for all ages bringing in more than 40,000 local and afar visitors. Hampshire Road was closed to traffic and came alive with multicultural street entertainment for children and all family members.
The Sunshine Lunar New Year Festival was staged and presented by the Sunshine Business Association, supported by Brimbank City Council, Victorian Multicultural Commission, Victorian State Government, SBS, Melbourne Airport Rail and Sunshine Businesses.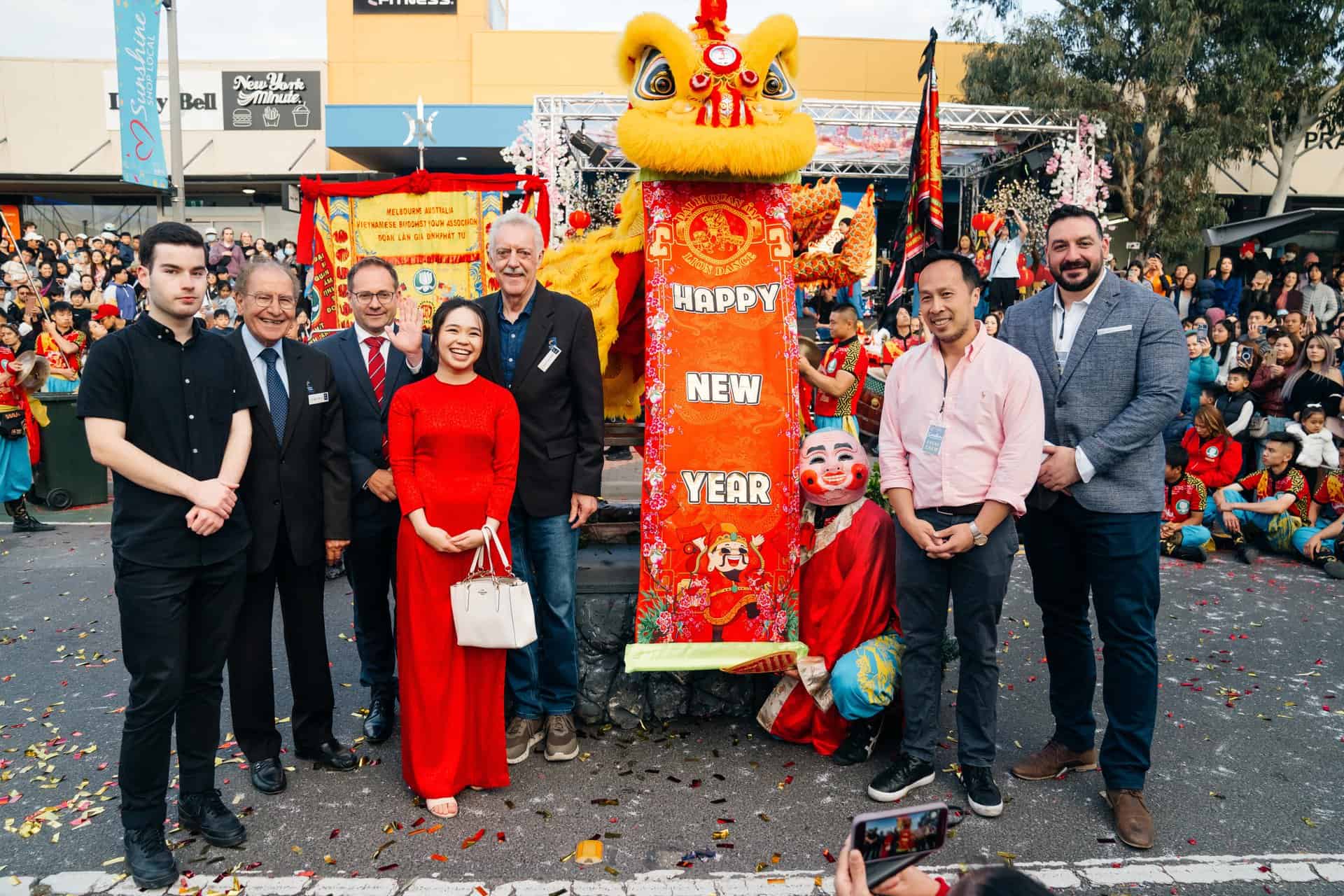 A large performance stage was built out the front of the Sunshine Plaza with seating that burst with exciting musical, dancing and comedy acts including the fabulous and funny Diana Nguyen who gave away hundreds of dollars in red-pockets to the audience, Ryan Ritchie from TrueLive, One Spirit Africa, LaDescarda and Sounds of Polynesia. The stage featured once again the Fastest Pho eating competition with the local City West Falcons winning the Fastest Bánh Mì eating competition and $1,000.
A fabulous array of street food stalls of many nations, super fun small and large children's rides, pony rides, face-painting, stilt-walkers, bubbles, street-performers, cultural kid's craft activities and Sunshine's favourite local sporting groups attended with fun kid's activities. Razor the Raptor & Toby the T Rex Dinosaurs visited with their 5 dinosaur babies and danced down Hampshire Rd.
A vibrant Lion and Dragon dance complete with long string fireworks took place at the stage with the festival ending with a traditional Lunar New Year display of Fireworks.
Vu Du - Sunshine Business Association President said "A splendid day for all that came and celebrated in the festivities, we are proud to bring such a wonderful event to the community. Our local businesses have praised SBA for such a successful day, with one of the shopping centres saying it's their busiest day of the year, and this is what drives us in delivering such festivals along with all the wonderful smiles and people dancing on the day".