2019 Sunshine Lantern Festival
2019 Sunshine Lantern Festival
The Sunshine Lantern Festival is a free community event that takes place in the busy Sunshine shopping precinct along Hampshire Road, Sunshine annually in September.  This year's festival is Sunday 15th September 2019 from 11am to 8pm. It is our 10-year anniversary and we will be celebrating with a huge day of family fun, live entertainment, rides, street performers, animals, music, dancing, food of many nations, magical Lion and Dragon Dancing, a Lantern Parade to celebrate the full moon and ending with spectacular fireworks from 7.45pm to 8pm. Please make sure all pets are kept indoors.
Last years street festival saw crowds of up to 55,000 people travelling from as far a field as Warrandyte, Bendigo, Warrnambool and Tasmania, all coming to enjoy the vibrant multicultural festivities and entertainment. The Sunshine Lantern Festival is a popular traditional event celebrated in Vietnam and many other South-East Asian communities and here in Sunshine it brings our culturally diverse community together in a family friendly, safe and fun environment while supporting our local businesses of Sunshine. From humble beginnings in 2009, it is now one of the biggest one-day community festivals in the west and the largest Lantern Festival in Victoria.

This year the bustling Hampshire Road, between Devonshire Road and Foundry Road will be closed to all traffic and will come alive with roving street performers, live entertainment, children's rides, jumping castles, pony rides, street food, face-painting, circus activities, sporting fun, lantern making and more. Look out for the Water Drops stiltwalkers, The Great Gizmo, The Luna Moonies and TV personality Chris Humfrey with a Wild Action kids stage show with Australian native animals; kids can actually touch. There will be cultural kids activities including Asian origami, Vietnamese lantern making and Aboriginal craft. A large performance stage and seating area will burst with multicultural live entertainment such as Aboriginal artist Mick Tambo who will give us a unique Indigenous experience, One Spirt Africa with a drumming and dance performance to the Vietnamese cultural Legend of the Moon performance featuring International Vietnamese Artist - Y Thanh.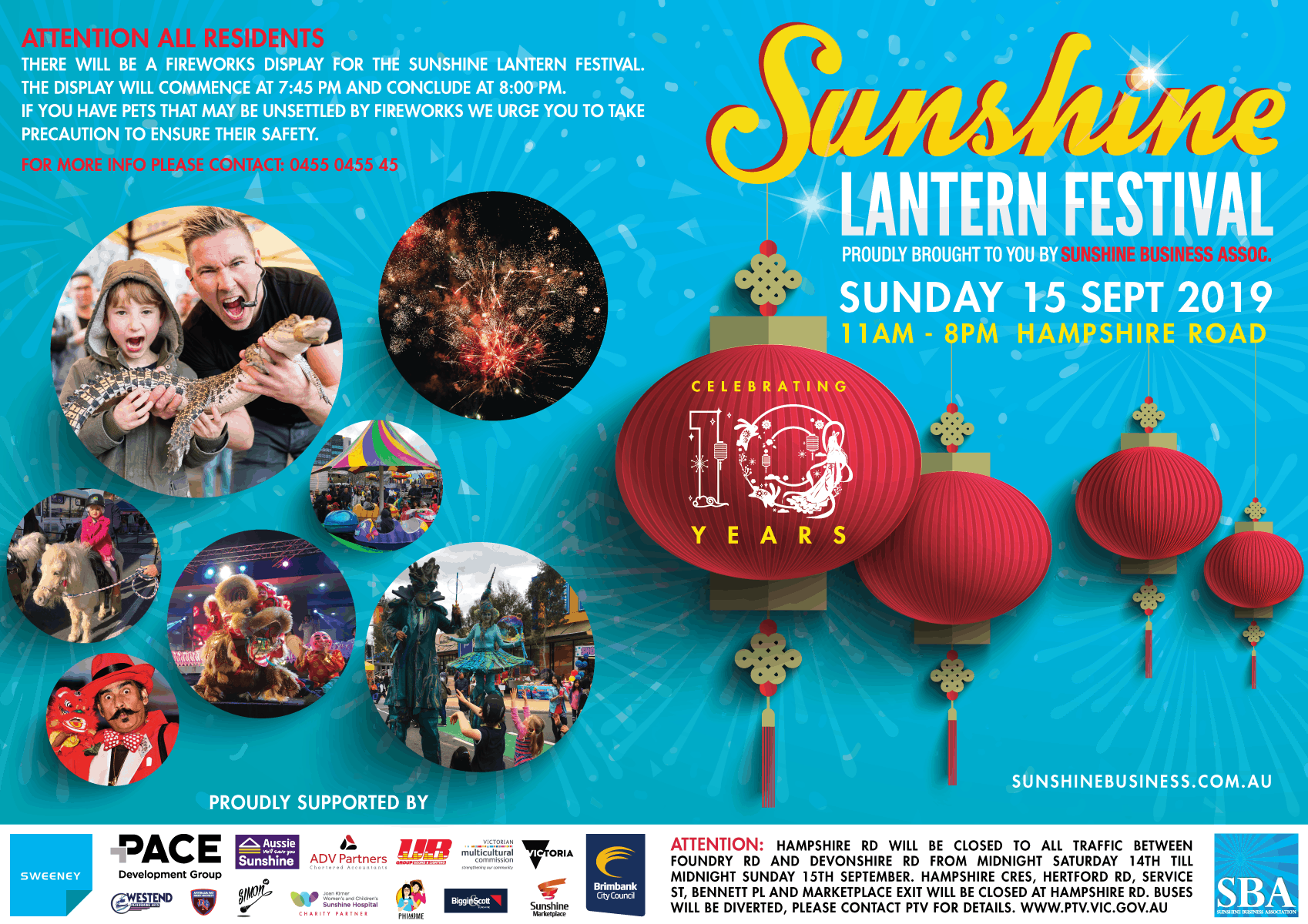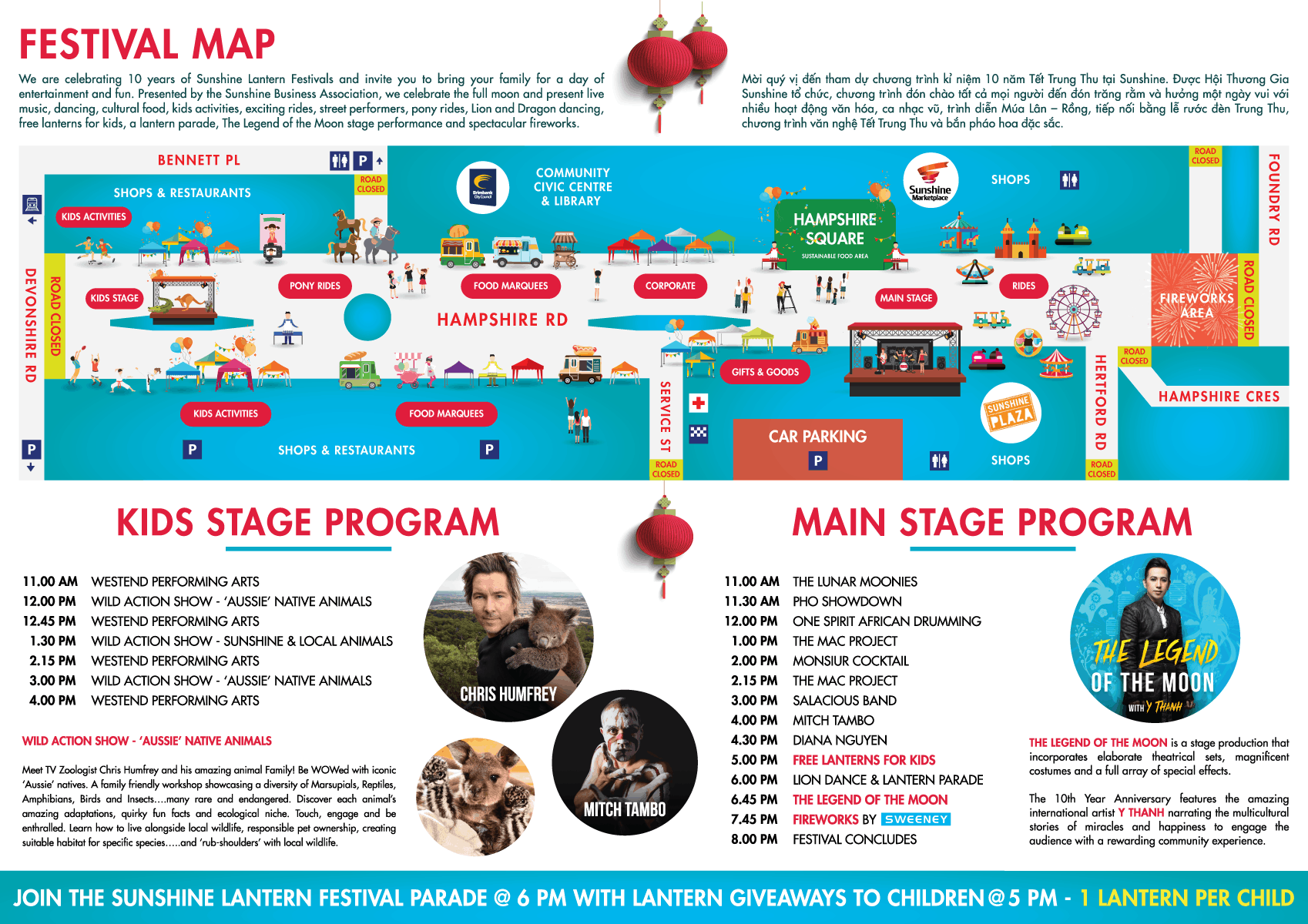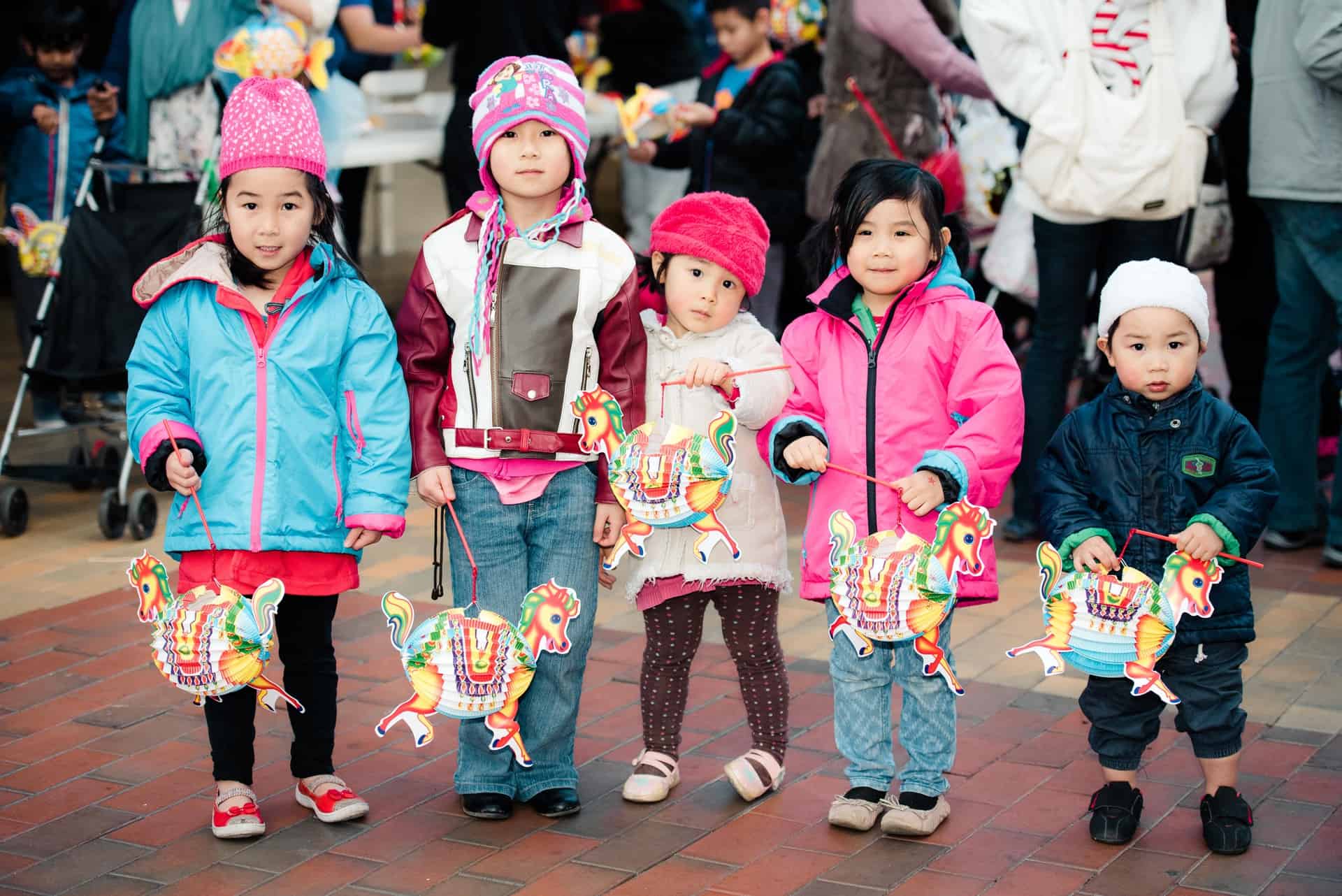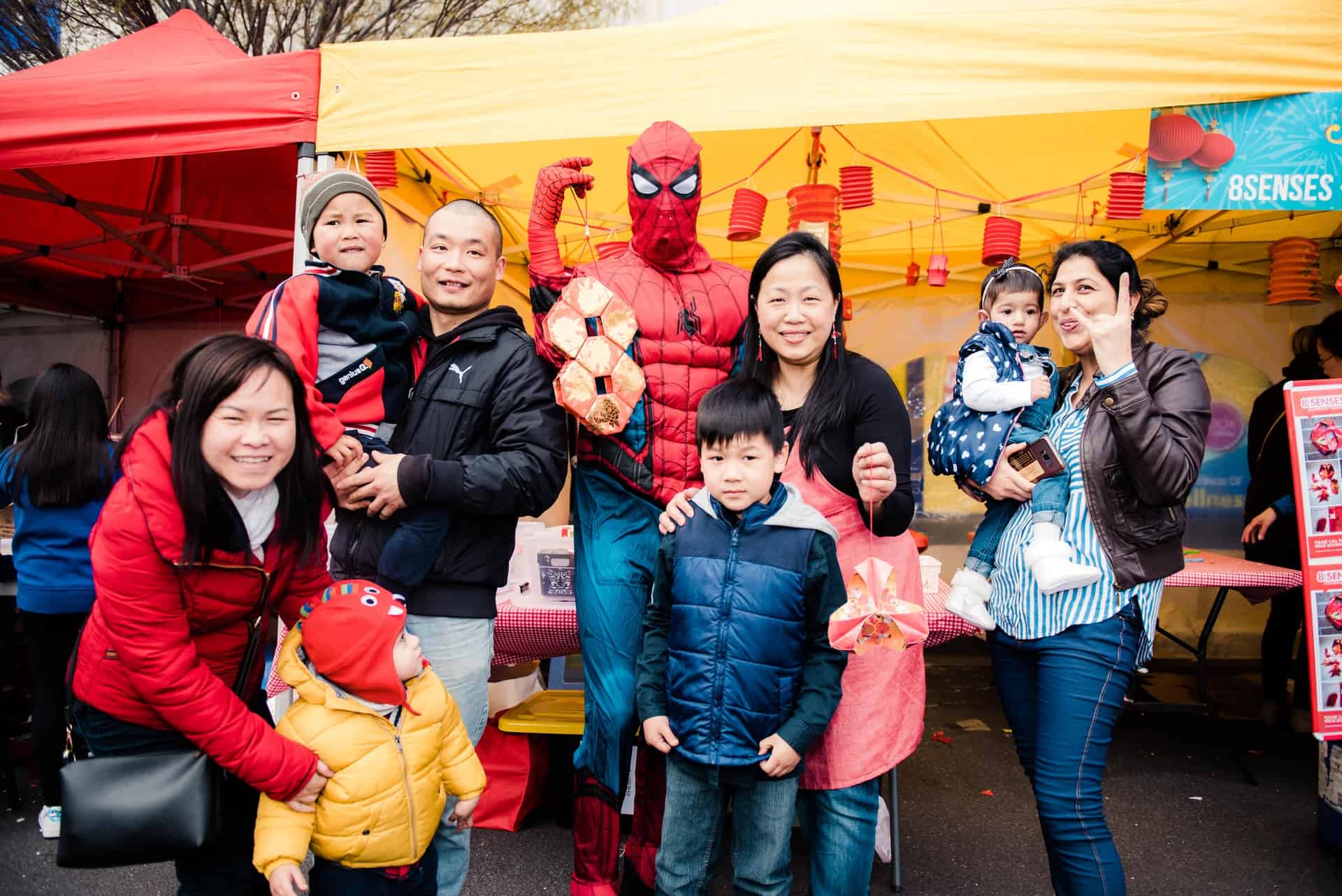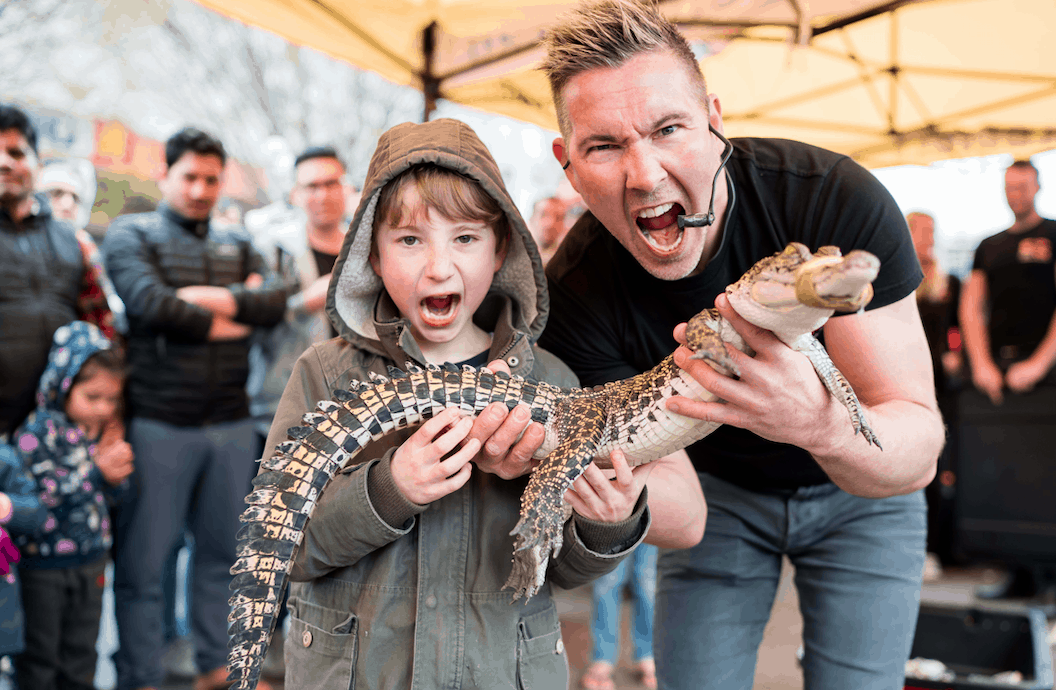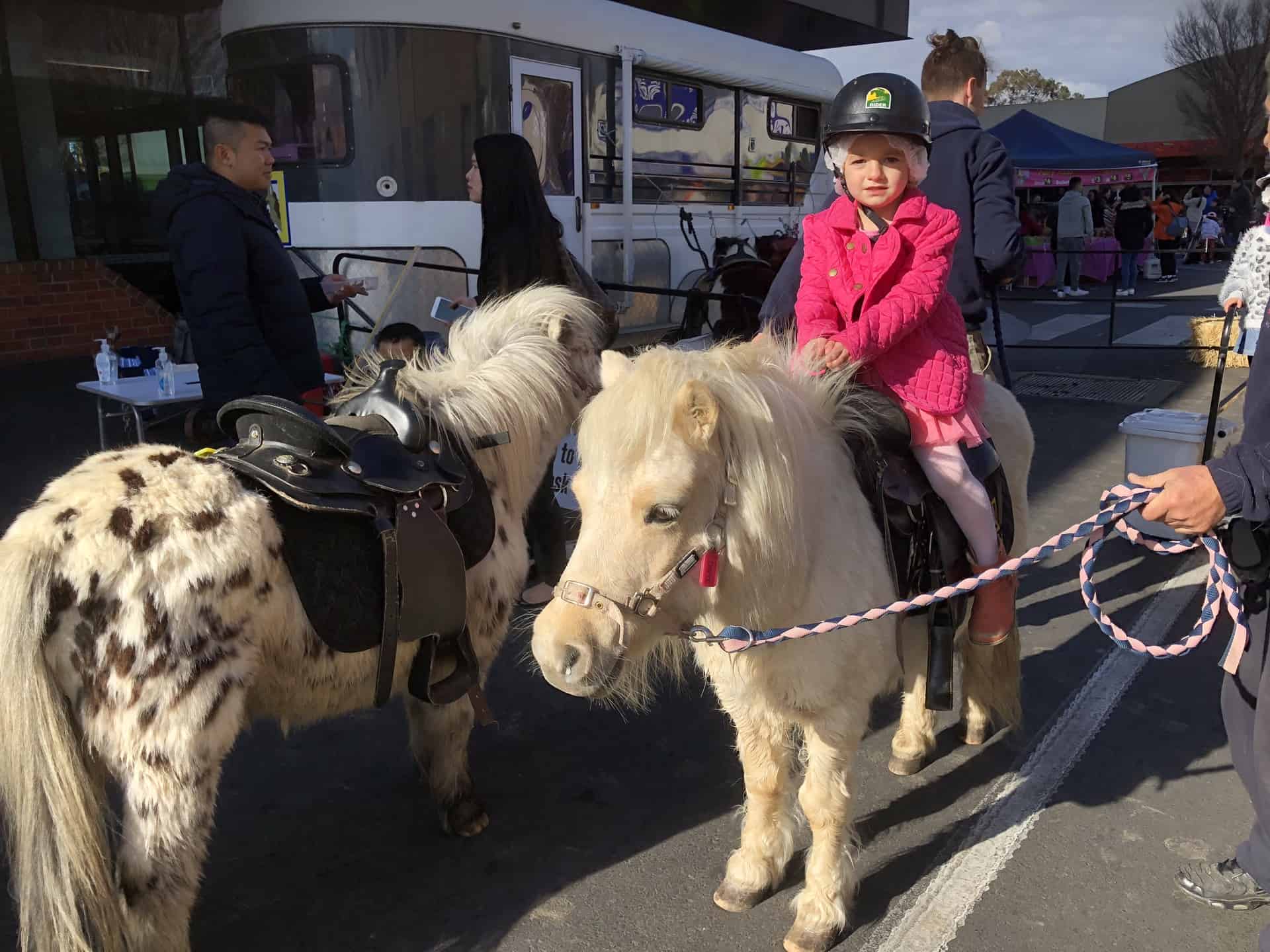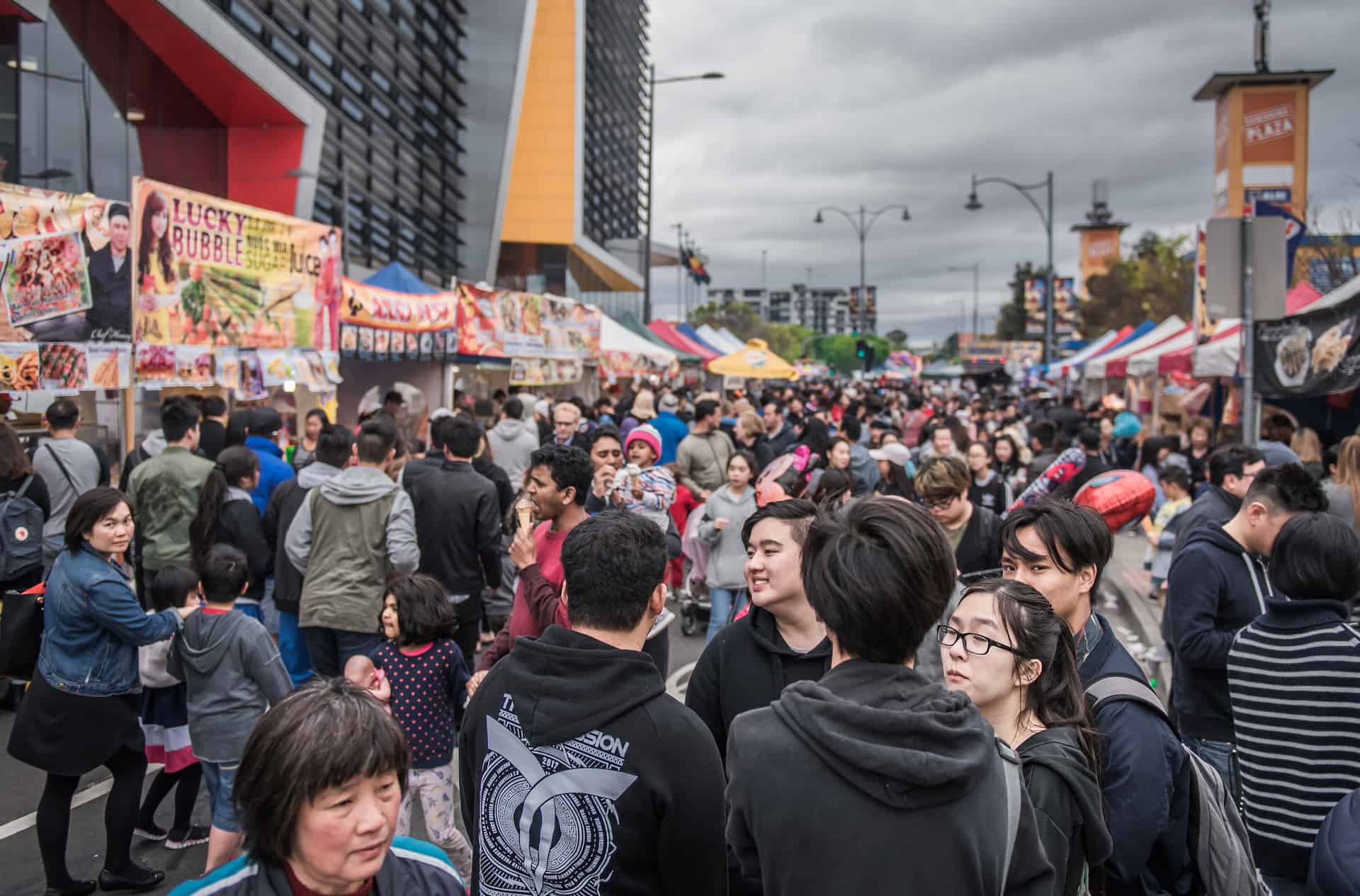 At 5pm we start the free Lanterns for KIDS ONLY give out at chosen locations - listen at the stage for locations. At 6pm a vibrant and energetic Lion and Dragon dance team complete with long string fireworks takes place at the main stage, then along the Hampshire Road shopfronts leading a parade of children and 1,000's of led battery powered animal shaped lanterns. At 6.45pm The Legend of the Moon performance on the main stage captivates all that watch the beautiful traditional Vietnamese dancing and unfolding story of the full moon. Then at 7.45pm to 8pm we always end our festival with an exciting display of Fireworks.
The Sunshine Lantern Parade is a free cultural community event staged and presented by the Sunshine Business Association, supported by Brimbank City Council and Multicultural Victoria.
PLEASE NOTE HAMPSHIRE RD WILL BE CLOSED TO ALL TRAFFIC BETWEEN FOUNDRY RD & DEVONSHIRE RD FROM MIDNIGHT SATURDAY 14TH TO MIDNIGHT SUNDAY 15TH SEPTEMBER. HAMPSHIRE CRES, HERTFORD RD, SERVICE ST, BENNETT PL AND MARKETPLACE EXIT WILL BE CLOSED AT HAMPSHIRE RD. BUSES WILL BE DIVERTED, PLEASE CONTACT PTV FOR DETAILS.   WWW.PTV.VIC.GOV.AU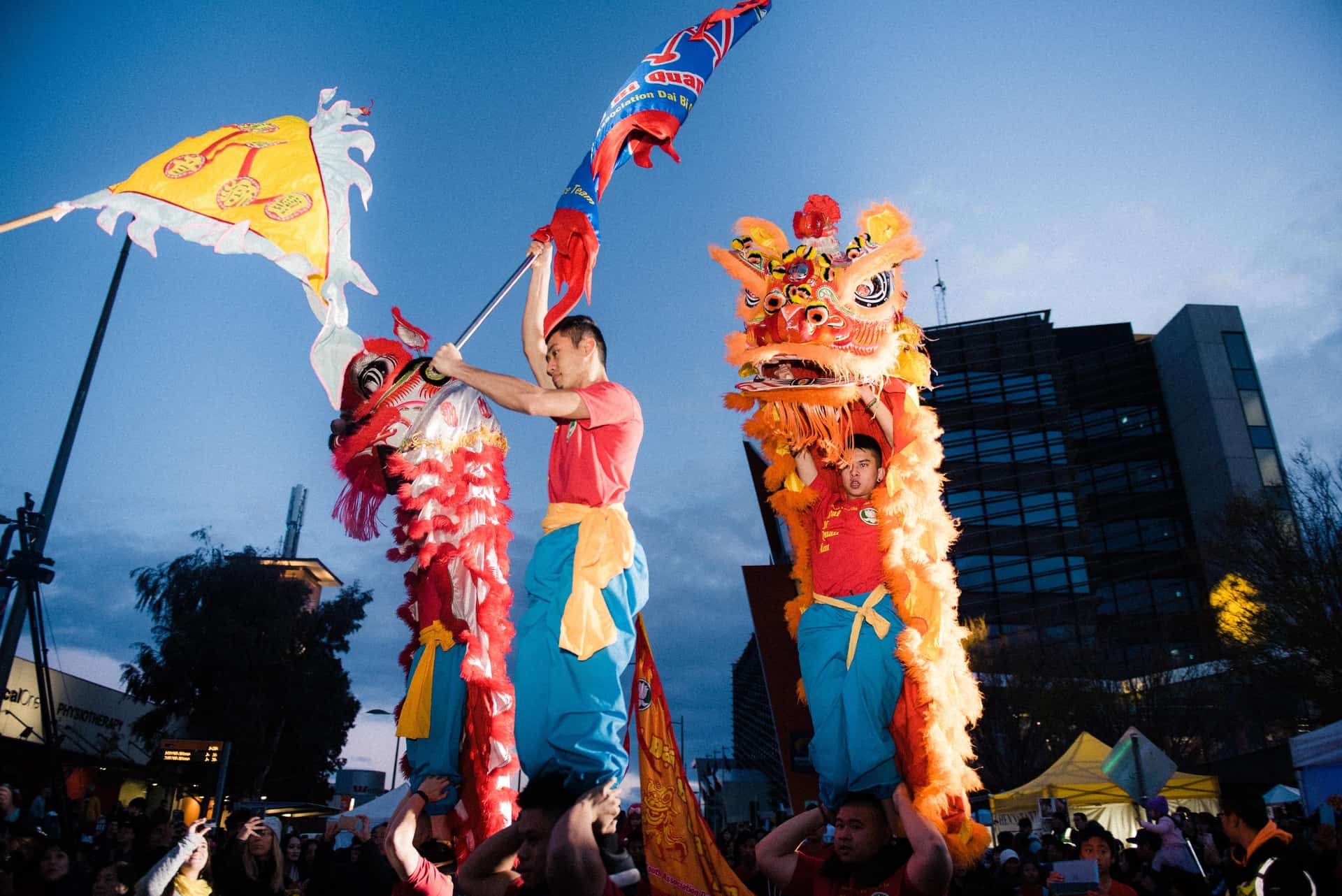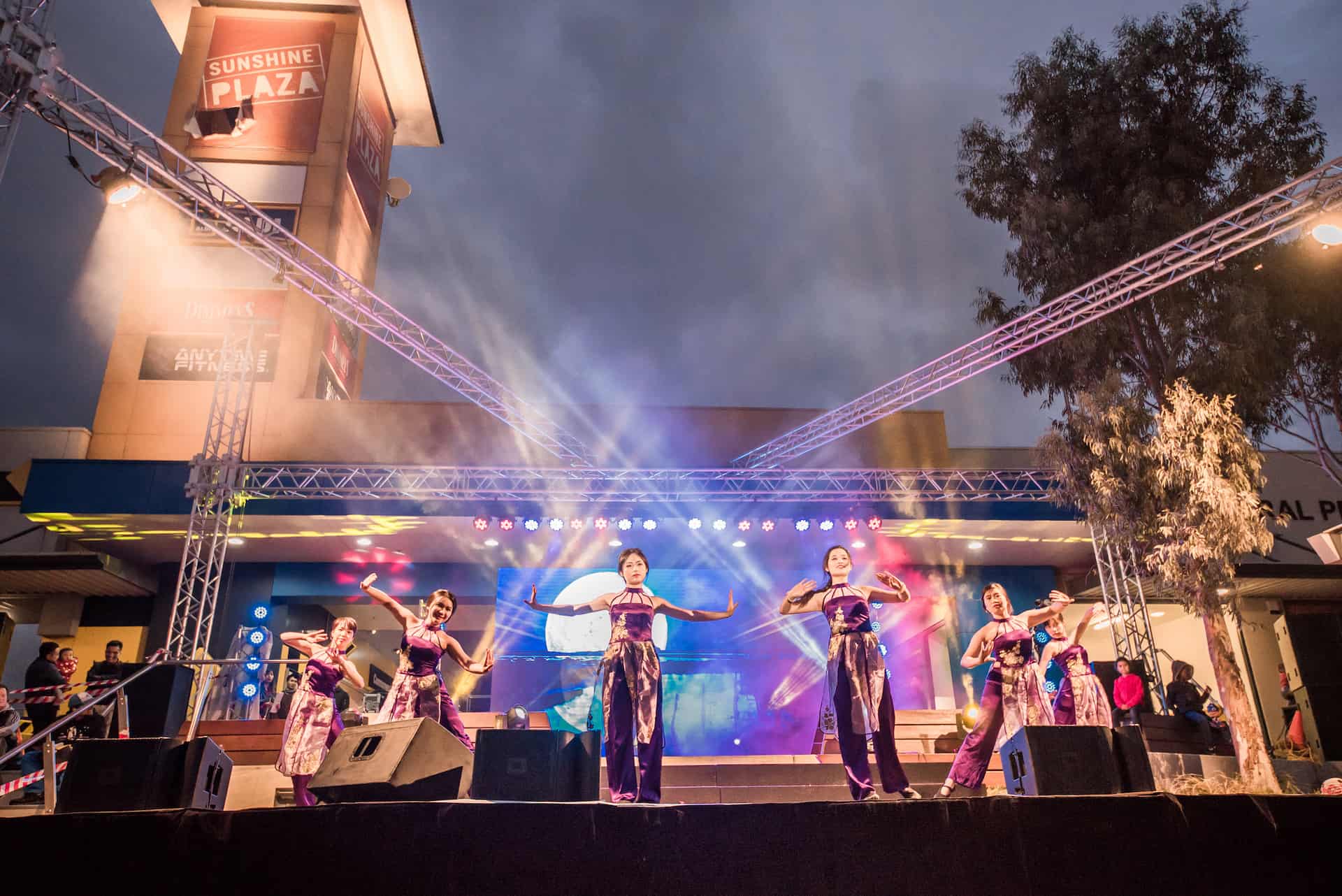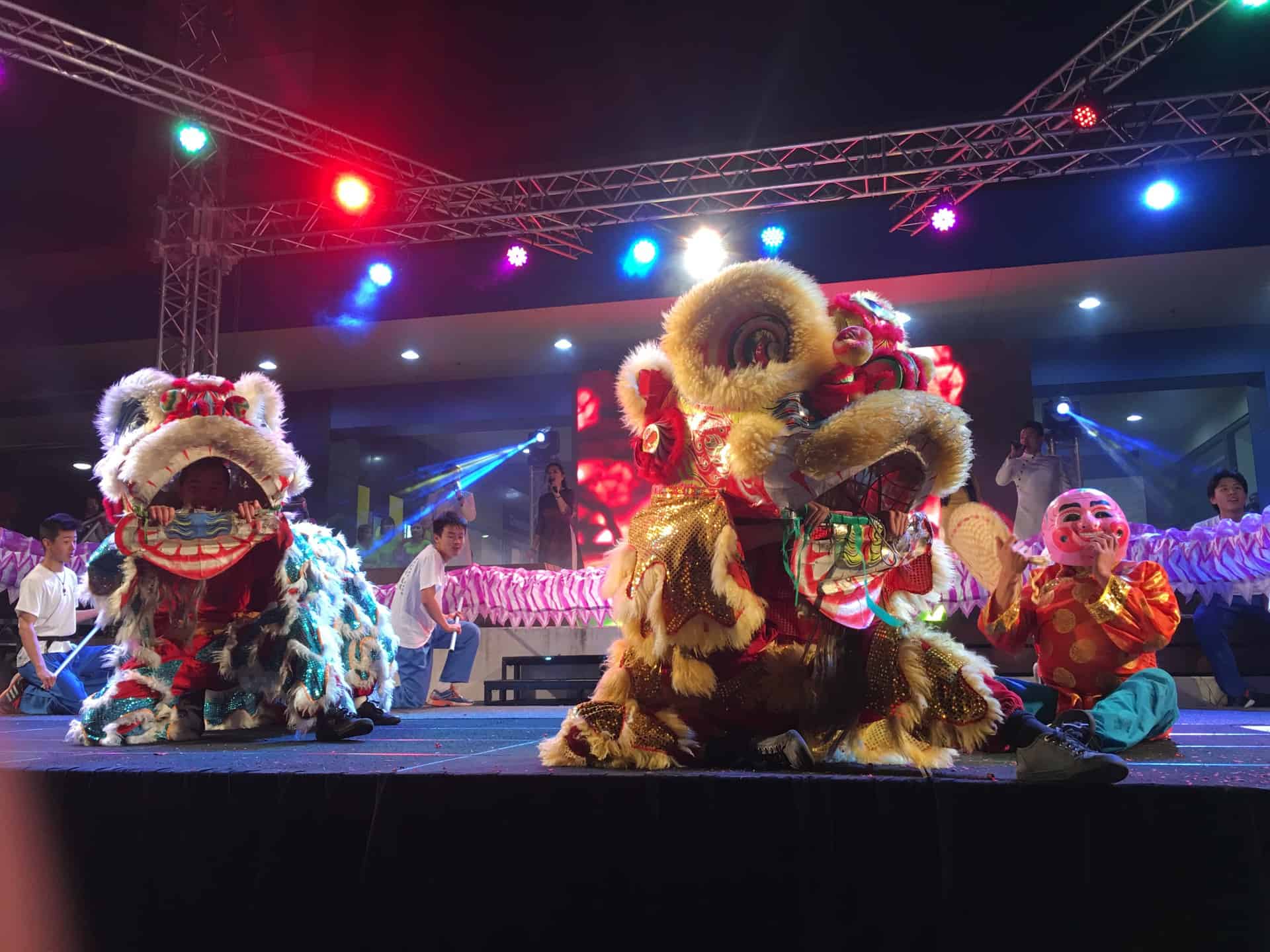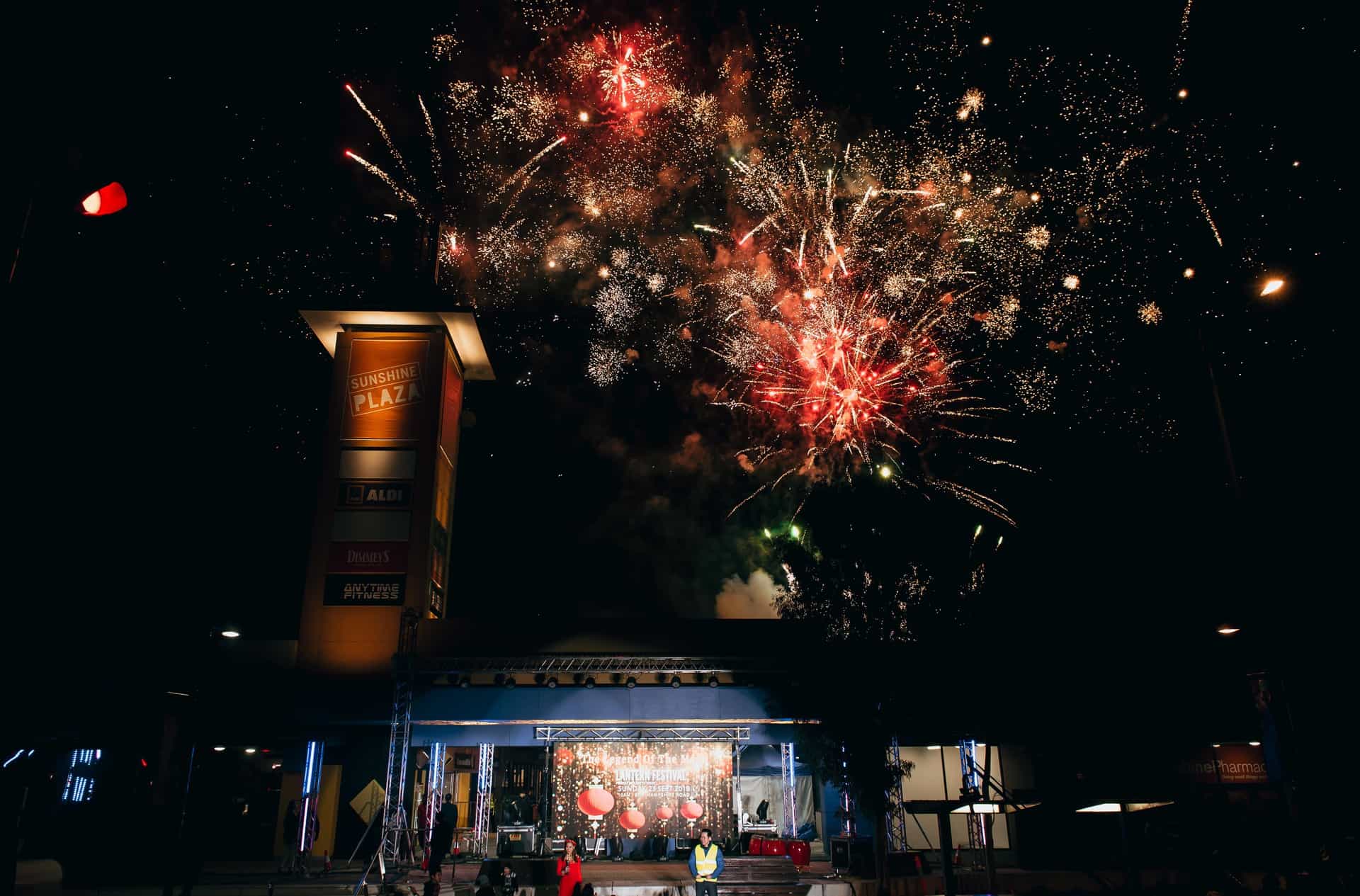 Located at the front of Sunshine Marketplace, 'HAMPSHIRE SQUARE' the VIP food space will return for 2019 - bigger and better offering visitors a sustainable option and fabulous Vietnamese food all for only $20. A comfy space with tables and chairs where you can watch the stage and festival in comfort. This space supports our ongoing Sustainable Sunshine campaign using all sustainable containers and utensils. Open from 1pm to 5pm.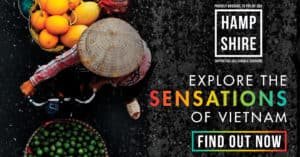 The 2019 Sunshine Lantern Festival will be on Sunday 15th September from 11am to 8pm
Looking to be a Stall Holder?
Looking to be a Stall Holder? The 2019 Sunshine Lantern Festival Committee invites Corporate, Food and Goods Stallholders to participate by filling in the Contact Us form.
If you are a community group wanting a stall, a street or stage performer wanting to participate please contact us.